brainhall ART PRODUCTION to publish experimental sound shapes as netreleases. In parallel with each netrelease, an object of art is also developed.
---
brainhall zehn, 2010
Gerhard Zander/Gerald Fiebig: Modul 2
netrelease & art multiple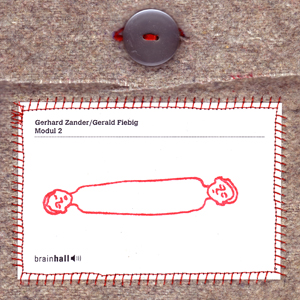 download the full album + covers in a .zip (44MB)

Recorded and mixed: Gerhard Zander. Track 7 mixed by Gerald Fiebig.
Mastered: Andreas Glauser.
art multiple: Julia Kälin.
Composed and/or performed: Gerhard Zander/Gerald Fiebig.
www.geraldfiebig.net > Duo Zander/Fiebig.
1| Schwinden
Studio track by Zander, based on Fiebig's demo for his vocal piece Schwinden ('to vanish' or 'to disappear'). Recorded 3 January, 2009.
2| Elektromagnetisches Picknick 1
Excerpt from duo improvisation using everyday electronics, induction coils and effects. Recorded live in concert at the festival Experimentelle Musik, Munich, 8 December 2007. Edited by Andreas Glauser.
3| Elektromagnetisches Picknick 2
For details see track 2.
4| Bambussprossen
Duo improvisation using no-input mixing boards and effects. 'Bamboo sprouts' was chosen as a guiding concept for this improvisation in the manner of Brian Eno's Oblique Strategies. Recorded live at rehearsal,
Augsburg, 29 March 2009.
5| Elektromagnetisches Picknick 3
For details see track 2.
6| Elektromagnetisches Picknick 4
For details see track 2.
7| Das Geräusch von schmelzendem Eis
This studio composition is based on the signal of a piezo pick-up inside an ice cube recording 'the sound of ice melting', recorded by Zander on 9 June, 2007. The source recording was edited, overdubbed several
times and arranged in the stereo field without further treatments by Fiebig. This piece was created for a radio drama competition on climate change organised by Radio Helsinki, Graz (Austria) in 2007 and won the 2nd prize.
1| Schwinden

- mp3
2| Elektromagnetisches Picknick 1

- mp3
| | |
| --- | --- |
| | 3| Elektromagnetisches Picknick 2 - mp3 |
| | |
| --- | --- |
| | 4| Bambussprossen - mp3 |
| | |
| --- | --- |
| | 5| Elektromagnetisches Picknick 3 - mp3 |
| | |
| --- | --- |
| | 6| Elektromagnetisches Picknick 4 - mp3 |
| | |
| --- | --- |
| | 7| Das Geräusch von schmelzendem Eis - mp3 |
brainhall radio broadcast > Zander und Fiebig" - Radio LoRa, Zürich



This recordings are under a Creative Commons license.
Copy, share, burn, P2P, offer, thank you for that, please keep the whole records complete with all its elements